Evaluation on EoLC in Residential Care Homes for the Elderly (RCHEs)

Beneficiaries
The HKAG programme aims at upskilling RCHEs staff to provide EoLC. Residents in their end of life are the end users of the programme. Hence, the programme's impacts on EoL residents were also evaluated. Particularly, we are interested in the programme's effectiveness on improving the quality of life and reducing unnecessary medical service utilisation of EoL residents in the RCHEs. By the end of December 2018, the HKAG programme has served 384 residents, including those admitted to EoLC and residents who were engaged in the discussion of advance care planning. The programme has also benefited more than 2,000 family members.
Methodology
Residents were assessed their symptoms at service intake and after 6 months of service. Structured and standardised symptom assessment tools for end-of-life patients were employed. Regarding service impact, the medical service utilisation in the last 3 months in life of deceased patients in the HKAG programme was compared to that of deceased end-of-life patients in 2015 in Hong Kong who had a principal diagnosis of cancer, COPD, congestive heart failure, end-stage renal diseases, motor neuron disease, and Parkinson's disease. These data were retrieved from the Central Panel on Administrative Assessment of External Data (CPAA) of Hospital Authority in a clinical data mining (CDM). With the introduction of EoLC services, it is expected that there would be an impact on the medical service utilisation of patients in the last few months in life.
Achievements
Among assessed residents with dementia (n=60), the overall symptom improved by 8% when compared between baseline and 6-month assessment. The improvement was statistically significant. In particularly, residents with dementia experienced significantly improved symptom relief regarding shortness of breath (p<.01), depression (p<.05), and agitation (p<.05).

Among assessed residents without dementia (n=13), the overall symptom severity reduced by 47%, which was also statistically significant (p<.05). When individual symptom was examined, these residents reported significantly reduced pain and sadness by 56.1% and 73.2% respectively (p<.05).

Regarding service impact on medical service utilisation in the last 3 months of life, retrievable data from 37 deceased residents suggested that deceased residents in the HKAG programme had 13.25 fewer hospital beddays and 0.33 fewer A&E attendances than EoL patients in general. This result supports the effectiveness of the programme in helping residents to avoid unnecessary hospitalisation and stay longer in a familiar environment –the RCHEs.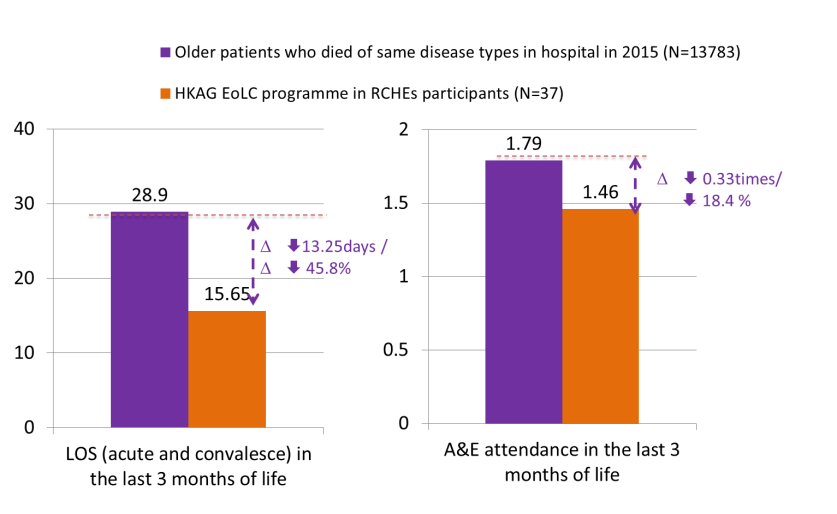 Extrapolating this finding to 384 residents served by the HKAG programme, it is estimated that the programme have helped spared 5,088 hospital bed days and 126.72 number of A&E attendance to other needy patients. Taking the cost of these medical services into consideration, the EoLC programme in RCHEs have also helped save 25.4 million medical costs.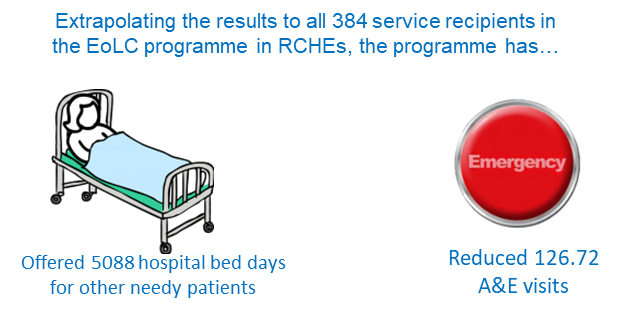 Learnings in phase I and way forward in phase II
The programme not only relieved both physical and emotional distress of EoL residents, but also reduced the torment to dying residents caused by repeated hospitalisation. In the coming three years, HKAG will expand their services to more RCHEs to benefit more residents who have EoL issues.
---

[an error occurred while processing this directive]