Partners
Faculty of Social Sciences, The University of Hong Kong
The CUHK Jockey Club Institute of Ageing
Hong Kong Association of Gerontology
Haven of Hope Christian Service
S K H Holy Carpenter Church District Elderly Community Centre
The Hong Kong Society for Rehabilitation
Other Resources (Local)
Project Enable, The University of Hong Kong
The 10th International Conference on Grief and Bereavement in Contemporary Society (ICGB) 2014
Other Resources (Overseas)
Worldwide Hospice Palliative Care Alliance (WHPCA) (Worldwide)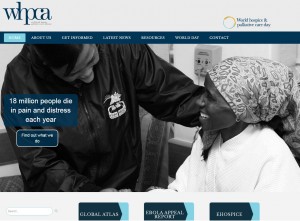 The Worldwide Hospice Palliative Care Alliance (WHPCA) is an international non-governmental organisation focusing exclusively on hospice and palliative care development worldwide with involvement from over 70 countries. Representing a global voice on hospice and palliative care, WHPCA has issued the Global Atlas on Palliative Care at the End of Life in October 2014 to illustrate the global need for palliative care. WHPCA also manages the first global news and information hub for hospice, palliative and end of life care – www.ehospice.com.
World Health Organization – Europe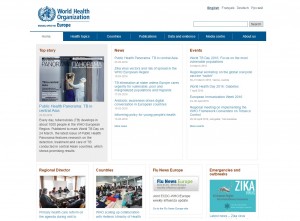 The WHO Europe has produced three seminal reports on palliative care over the past decade. The first report Palliative Care: The Solid Facts was published in 2004 advocated for the needs of all-rounded, person-centred palliative care of all people facing life-threatening diseases. The accompanying booklet Better Palliative Care for Older People further illustrate the needs for palliative care for this particular age group. The third booklet, Palliative Care for Older People: Better Practices, was published in 2011 surveying quality palliative care practices in various settings (e.g., domiciliary care, hospital care, residential homes).
The Irish Hospice Foundation (Europe)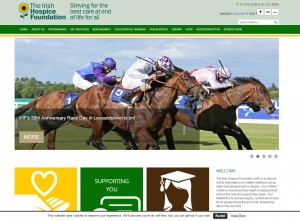 The Irish Hospice Foundation is the national charity on death, dying, and bereavement in Ireland. The mission of the Foundation is to facilitate dignity, choice, and comfort for all people confronting end of life. The Foundation has published widely on a range of topics, including public attitudes to death, dying, and bereavement, perspectives on dying-at-home and access to specialist palliative care in Ireland, and hospice-friendly hospitals.
Institute of Medicine (IOM) (North America)
The IOM published the report, Dying in America : Improving Quality and Honouring Individual Preferences Near the End of Life, in 2014. The Report identified the needs for end-of-life care and opportunities for improvement in the provision of person-centred care. The Report also underscores the importance of effective clinical-patient communication and advance care planning, professional education and competency building, as well as development of a sustainable and affordable structure to support end-of-life care services for different groups. The report comprehensively illustrated the knowledge gaps and structural problems that hinders the provision of quality end-of-life care in the US.
Ambitions in Palliative and End of Life Care (United Kingdom)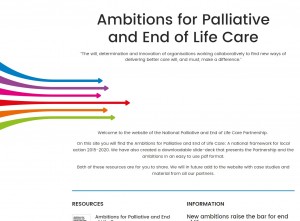 The Ambitions in Palliative Care is a national framework produced by the National Palliative and End of Life Care Partnership for local actions in 2015-2020. The framework stipulated six ambitions for better local end of life care, including seeing each person as an individual, fair access to care, maximizing comfort and well-being, coordinated care, staff capacity building, and community engagement.
National Gold Standards Framework Centre in End of Life Care (United Kingdom)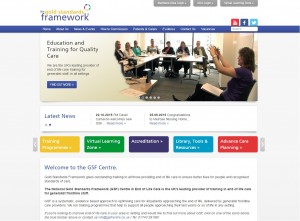 The Gold Standards Framework (GSF) is a systematic, evidence-based approach to optimizing care for end of life patients. The National Gold Standards Framework Centre in End of Life Care conduct training programs for improving quality of end-of-life care in settings such as domiciliary care, primary care, care homes, and acute hospitals, and establish tools and measurements for quality assessment.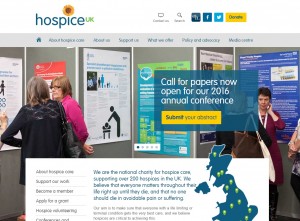 The Hospice UK is a national charity that supports over 200 hospices in the UK. The organisation endeavours to support hospice development in the UK as well as worldwide through training, education, and advocacy work related to hospice care.
Royal College of Physicians (RCP) (United Kingdom)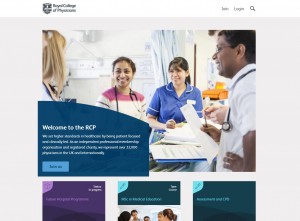 The Royal College of Physicians are involved in providing robust clinical guidelines for caring end-of-life patients and frail elderly. The Advance Care Planning National Guidelines summarized extant evidence informing health and social care professionals on best practice to manage advance care planning in clinical practices. The Acute Care Toolkit 3: Acute Medical Care for Frail Older People provided recommendations for staff working at acute medical units to work with frail elderly in a whole-system, multidisciplinary manner.
National Council for Palliative Care (NCPC) (United Kingdom)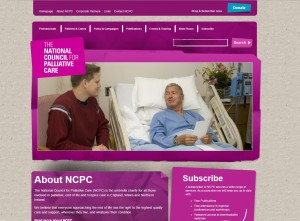 The NCPC is an umbrella charity for all services involved in palliative, end-of-life, and hospice care in the United Kingdom. The NCPC support end-of-life are services by offering training and education to organizations, producing guidelines for professionals and caregivers, and advocating for the cause of quality end-of-life care.
The King's Fund (United Kingdom)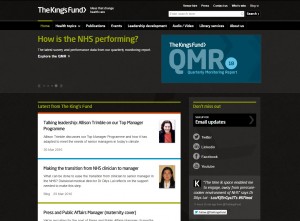 The King's Fund is an independent charity with an objective to improve health and healthcare in England, and a vision to facilitate the availability of best possible care for all. The charity achieves its objectives through research and analysis which shapes policies as well as capacity building for people and organizations in healthcare. In 2013, the King's Fund has undertaken a research on comparing five successful UK-based model of care co-ordination for complex chronic illnesses, in order to locate key lessons and factors of success for co-ordinating care for the increasing population of chronic illness patients.
Care Quality Commission (CQC) (United Kingdom)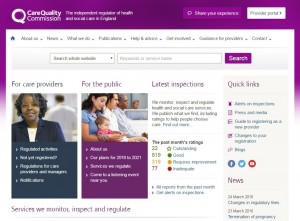 The CQC is an independent regulator of health and social care in England. End-of-life care has been recently included as one of the eight core services the CQC routinely inspect in acute hospitals. Individualised care and effective communications with patients and families have been prioritised as the key indicators of good care. Based on their inspection for different types of services, a review on inequalities and variations in end-of-life care services for several priority groups (oldest-old patients, non-cancer patients, persons with dementia, etc.) will be released in Autumn 2015.
British Geriatrics Society (BGS) (United Kingdom)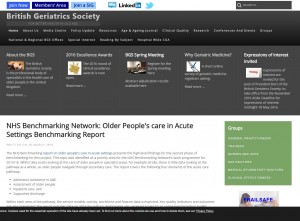 The BGS is a professional medical association to promote quality medical care for elderly and health in the old age. In particular, the BGS has extensively published papers on managing frailty (e.g., Fit for Frailty: Consensus Best Practice Guidance for the Care of Older People Living with Frailty in Community and Outpatient Setting) and end-of-life care. The BGS also works closely with the Gold Standards Framework on their acute hospital accreditation program and the Amber Care Bundle in order to sustain continual improvement on end-of-life care in acute hospitals.
National Institute for Health and Care Excellence (NICE) (United Kingdom)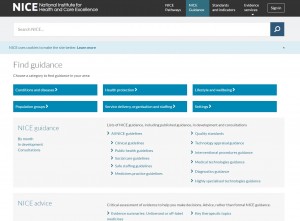 The NICE produced a number of guidelines and quality standards on palliative and end of life care of adults suffering from a repertoire of diseases, including cancers, chronic obstructive pulmonary disease, chronic heart failure, and on a range of aspects such as use of opioids for pain relief, person-centred care, etc.
Lien Centre for Palliative Care (Asia)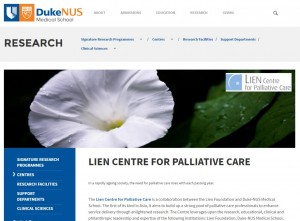 The Lien Centre for Palliative Care is collaboration between the Lien Foundation and the Duke-NUS Graduate Medical School. Being the first of its kind in Asia, the Centre aims to build the capacity of palliative care professionals to provide quality and innovative care based on empirical evidence in Singapore and Asia at-large. The Centre has been commissioned by the Ministry of Health, Singapore to publish the Report on the National Strategy for Palliative Care in 2011.
Hospice Foundation of Taiwan (Asia)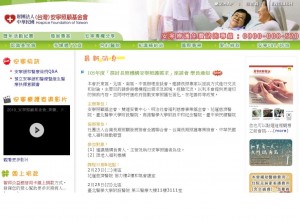 The Foundation has been established in 1990, and proactively advocate for end-of-life care as well as life education among various professions in Taiwan. The Foundation has also played a major role in driving the legislation for protecting patients' rights for dignified death and refusal to resuscitation, rendering Taiwan the first place in Asia to have such legal protection.
Hospice Care for Mesothelioma Patients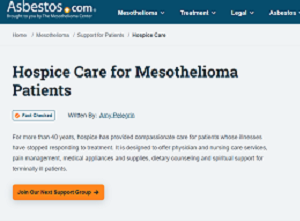 The webpage provides information of hospice care in the Unite States of America, focuses on mesothelioma patients. Topics include: When to Consider Hospice Care, Hospice Care Options for Patients, Support for Caregivers, Paying for Hospice Care, Hospice Care Resources and Stories from Survivors Entering Hospice.
---

[an error occurred while processing this directive]