Evaluation on Knowledge & Skill Transfer

The Programme and Beneficiaries
To promote a better understanding and disseminate the positive dimensions of end-of-life care to different levels in the community, the JCECC Project has been organizing public talks and engagement activities, and actively promoting EoLC through social media platforms such as newspaper, radio broadcasting, and other social networking sites as well as mobile apps. Territory wide public surveys had been carried out in different phases of the JCECC Project to capture the impact of these initiatives on the public. The participation rate of these events had been encouraging. For example, for public education event, there were roughly 29,025 participants to participate in the public education events and over 350, 000 had access the information that had been broadcast on the social media platform.
Methodology
The Social Sciences Research Centre of the University of Hong Kong has been commissioned to carry out 3 waves of territory wide phone survey during the JCECC Project period. Residents in all districts of Hong Kong aged 18 above who spoke Cantonese, Putonghua or English would be randomly drawn to participate in the interview. The first wave was conducted between January and March 2016, while the second and third waves were conducted in April to May 2017 and July to September 2018 respectively. In each wave, around 1500 people had been interviewed on their knowledge, attitude, and preferences regarding EoLC. The changes across 3 waves of survey were analysed.
Key Finding
Knowledge
Overall, knowledge of terms related to services for patients with EoL issues was enhanced, in particular, the awareness towards the term "End of life care(EoLC)" and the understanding on EoLC service components increased steadily across years. The knowledge towards other related terms was also enhanced.
When comparing the responses in 2016 and 2018, the percentage for having heard of the terms were found to increase significantly for six terms in 2018: end-of-life care "安寧照顧" (30% increase), "Palliative Care 紓緩治療" (21.3% increase), DNACPR不作心肺復甦 (13.3% increase), Advance Directives預設醫療指示 (67.6% increase) and "Bereavement Support 善別服務" (36.3% increase). Although more people have heard about EoLC, still more than 60% of the public had not heard about the term.
On the other hand, the percentage for having heard of "Hospice Care善終服務" and "Grief Counseling 哀傷輔導" decreased by 4.5% and 20.4% in 2018 respectively when comparing to 2016.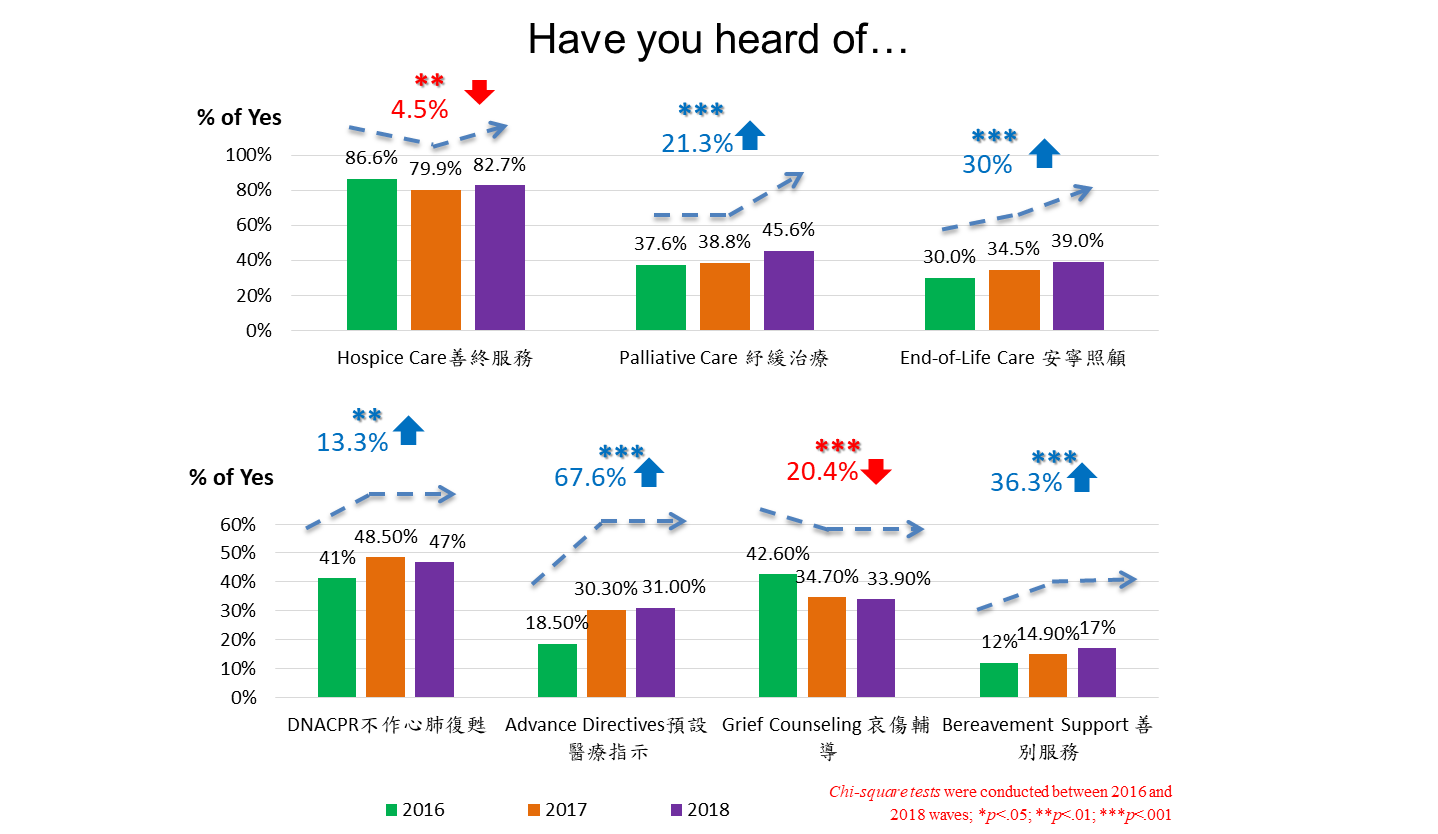 After the definition of EoLC was explained, respondents were asked their understanding on the types of care included in EoLC, 2 out of 5 of the respondents in 2016 answered "don't know" (38.7%). This percentage steadily decreased in the subsequent two years, to 34.1% in 2017 and only around 30% in 2018.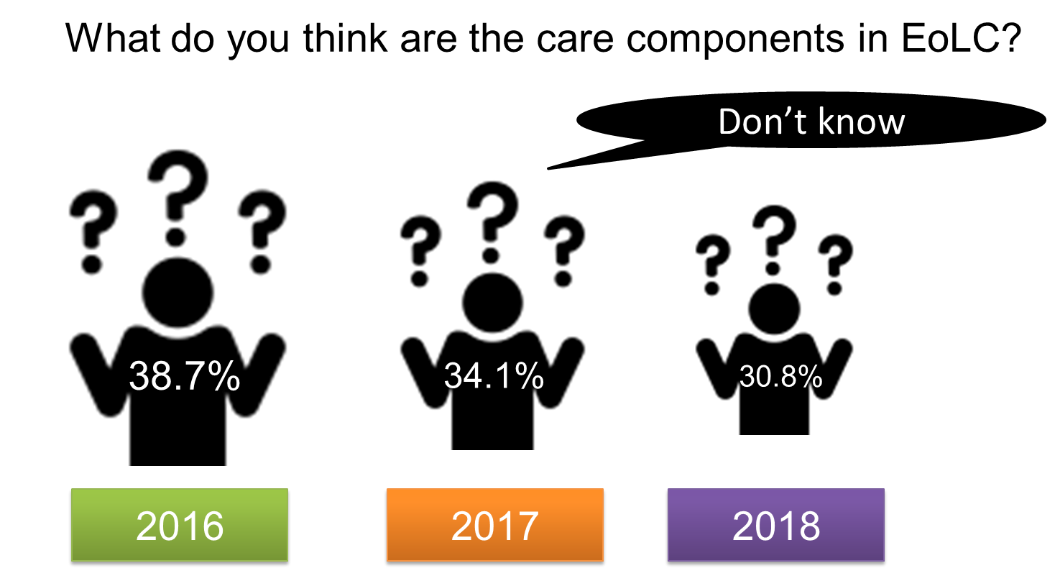 A few questions were being newly added to the 2018 wave in order to tab on the general public knowledge and attitude of Advance Care Planning in general and the percentage of hearing Advance Care planning (ACP) was only 8%
Attitude
General public doesn't perceive hospital as the only suitable place for EoLC, and they generally hold positive attitude towards community-based End of Life Care (EoLC)
Respondents were asked about the most suitable place to provide EoLC at Wave 2 (2017) and wave 3 (2018). In 2017, 51% of respondents preferred hospital, 14% preferred their own home, 17 % preferred RCHEs, 18% opted for other places including social service agency. The response distribution was roughly the same in 2018, with 48 % (3 out of 6) preferred hospital, 19% (1 out of 6) of preferred their home, 15 % (1 out of 6) preferred RCHEs, and12%  preferred social service agency. Note worthily, there was a trend of increasing % of respondents who chose home in 2018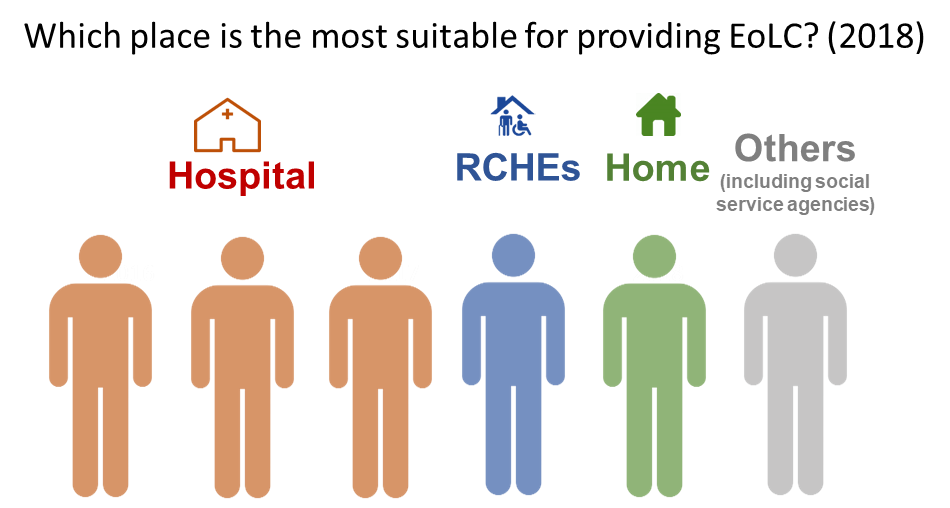 In all three waves of survey, over 80% supported EoLC facilities to be built near home and the proportion who supported the idea showed significant increase across years as well.
In all three waves of survey, three-fourths supported neighbor to receive EoLC at home. Although comparatively lower proportion of respondents expressed support towards "neighbor choose to die at home", still over half of the respondents supported the idea in all waves.
These results implied that people have difference values and preferences when choosing where to receive EoLC, while community is one of the places that they would consider. To promote autonomy and choices in EoLC, community-based EoLC have to be developed to expand care choices for the general public.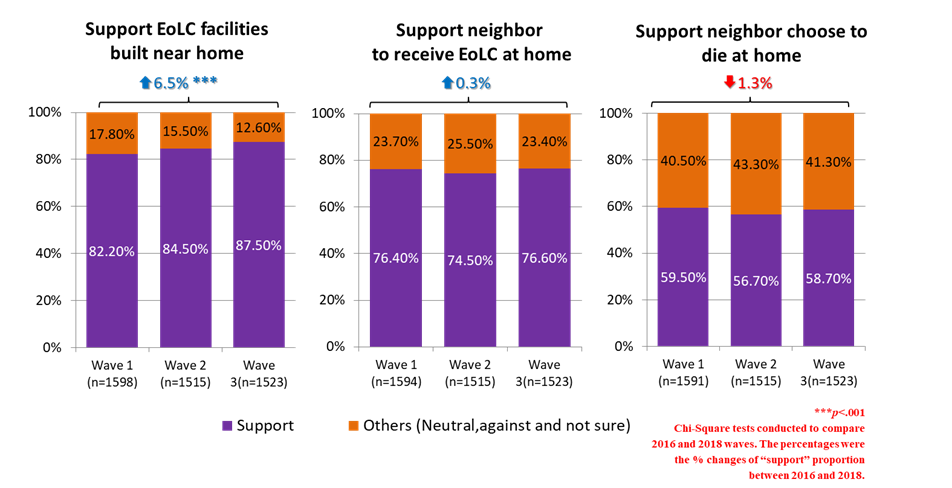 General Public prefer a holistic EoLC which emphasises both medical care and psychosocial spiritual care.
Participants were being asked their understanding on the service components in EoLC. Result shows that the top 5 responses across 3 waves covered holistic care encompassing physical, psychosocial and spiritual needs
Across years, the percentages of respondents who mentioned "spiritual care", and "medical care and support" were found to increase significantly. Moreover, respondents became less likely to mention "hospitalisation" in 2018 (6.2%) as compared to 2016 (10.8%), at the same time, they became more likely to mention "home care services" (10.6% (2016) vs. 22.1% (2018) which signified an emerging need for community support EoLC support.

Motivation to engage in EoLC
Reducing resistance towards EoLC, and more motivated to consider EoLC
When being asked if they would choose to receive certain EoLC services if they were diagnosed with terminal illness, over 80% of the public in 2018 expressed they were determined to sign an Advance Directive and to receive EoLC, while 75% would decide place of death for themselves. Observing the changes across waves of survey, it was found that the proportions of respondents who refused to sign AD, refused EoLC, and not going to decide place of death reduced by 33.2%, 22.9%, and 48% between 2016 and 2018.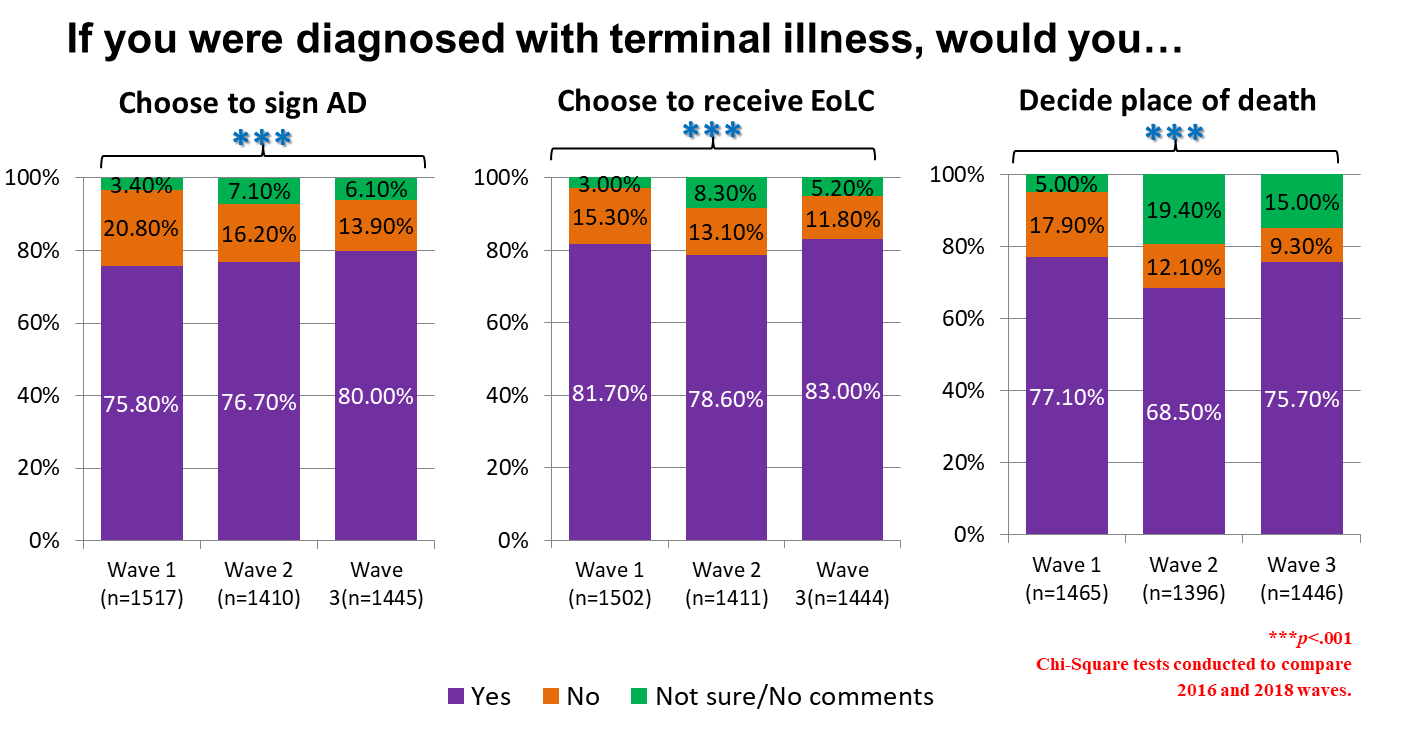 Increase motivation to participate in public education activities relating to EoLC
The public also showed increased motivation to join education activities on the subject of EoLC. When being asked whether they would participate in these activities in future, the overall increase of the "Yes" response from 2016 to 2018 was 34.7%.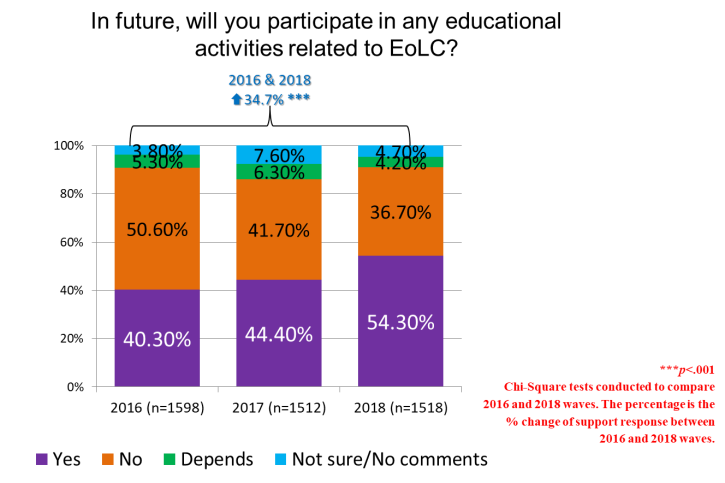 Learnings in phase I and way forward in phase II
In three waves of public survey, the knowledge of terms towards EoLC and service components in EoLC were enhanced, in particular, the awareness towards the term "End of life care" increased steadily across years. Regarding attitude, a clear insight we gained was that the majority hold positive attitude towards community-based end-of-life care, and that the general public voiced their needs for more options available on the place of EoLC. EoLC should not be only provided in hospitals but also in various community settings. Lastly, the proportion of the surveyed respondents who refused EoLC and Advanced Directive reduced over the past 3 years, and the public showed increased motivation to join education activities on the subject of EoLC. These results showed that there had been positive changes in the knowledge on EoLC, attitude towards EoLC, and motivation to engage in EoLC among the public over the past 3 years.
In phase II of the project, public education activities will be continued to raise the general public awareness on EoLC. Looking ahead, the future public education activities should put more effort on 3 major areas: (1) Keep increasing exposure of EoLC terms to the general public, (2) educate the public about the EoLC service available in the community and how to access them, and (3) create momentum in the community to promote more in-depth discussion on EoLC issues among the public and families.
---

[an error occurred while processing this directive]